Should I Buy a Home Right Now?
If you've been thinking about buying a home, you likely have one question on the top of your mind: should I buy right now, or should I wait? While no one can answer that question for you, here's some information that could help you make your decision.
The Future of Home Price Appreciation
Each quarter, Pulsenomics surveys a national panel of over 100 economists, real estate experts, and investment and market strategists to compile projections for the future of home price appreciation. The output is the Home Price Expectation Survey. In the latest release, it forecasts home prices will continue appreciating over the next five years (see graph below):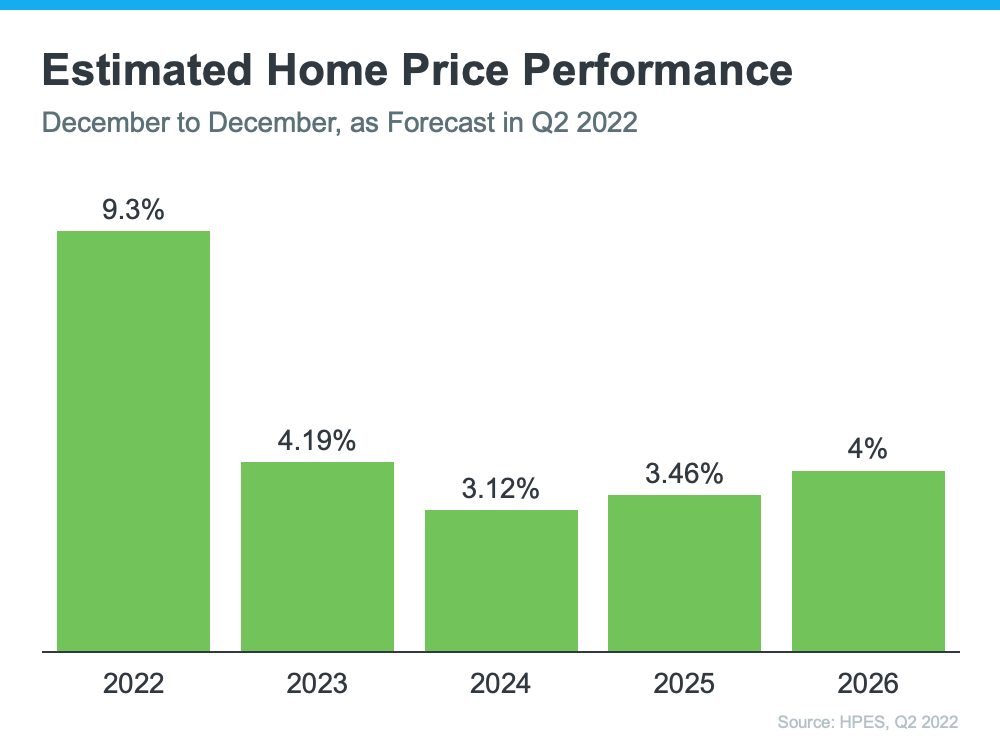 As the graph shows, the rate of appreciation will moderate over the next few years as the market shifts away from the unsustainable pace it saw during the pandemic. After this year, experts project home price appreciation will continue, but at levels that are more typical for the market. As Lawrence Yun, Chief Economist at the National Association of Realtors (NAR), says: 
"People should not anticipate another double-digit price appreciation. Those days are over. . . . We may return to more normal price appreciation of 4%, 5% a year."
For you, that ongoing appreciation should give you peace of mind your investment in homeownership is worthwhile because you're buying an asset that's projected to grow in value in the years ahead.
What Does That Mean for You?
To give you an idea of how this could impact your net worth, here's how a typical home could grow in value over the next few years using the expert price appreciation projections from the Pulsenomics survey mentioned above (see graph below):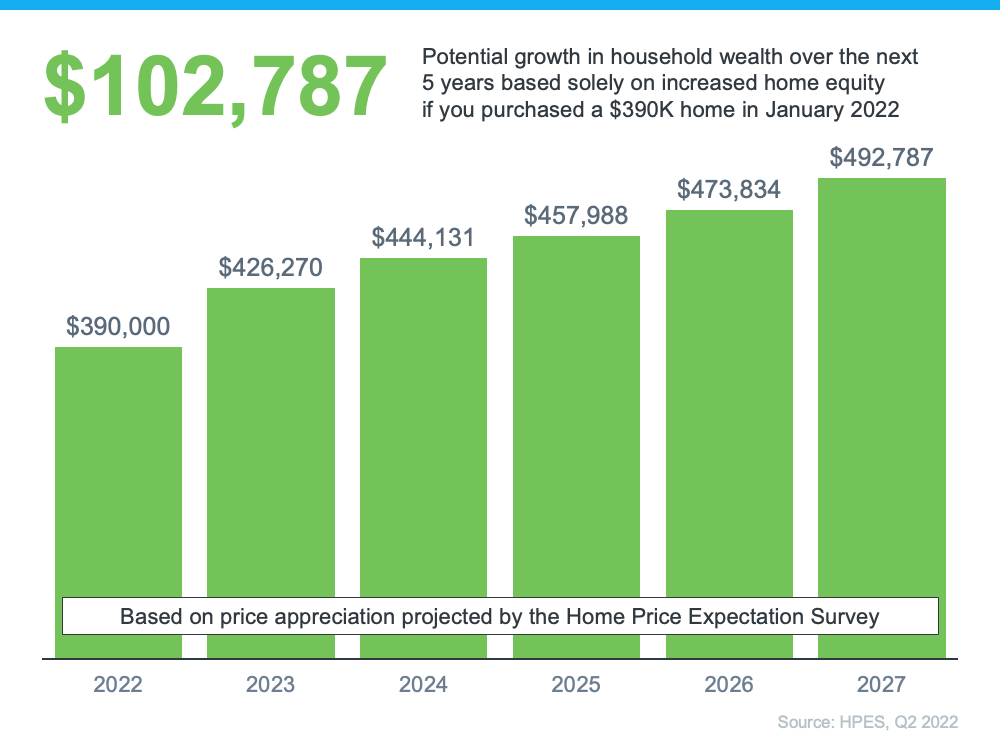 As the graph conveys, even at a more typical pace of appreciation, you still stand to make significant equity gains as your home grows in value. That's what's at stake if you delay your plans.
The Drop in Mortgage Rates Brings Good News for Homebuyers
Over the past few weeks, the average 30-year fixed mortgage rate from Freddie Mac fell by half a percent. The drop happened over concerns about a potential recession. And since mortgage rates have risen dramatically this year, homebuyers across the country should see this decline as welcome news.
Freddie Mac reports that the average 30-year rate was down to 5.30% from 5.81% two weeks prior (see graph below):  The rate as of August 11, 2022 was at 5.22% for the 30 Year mortgage.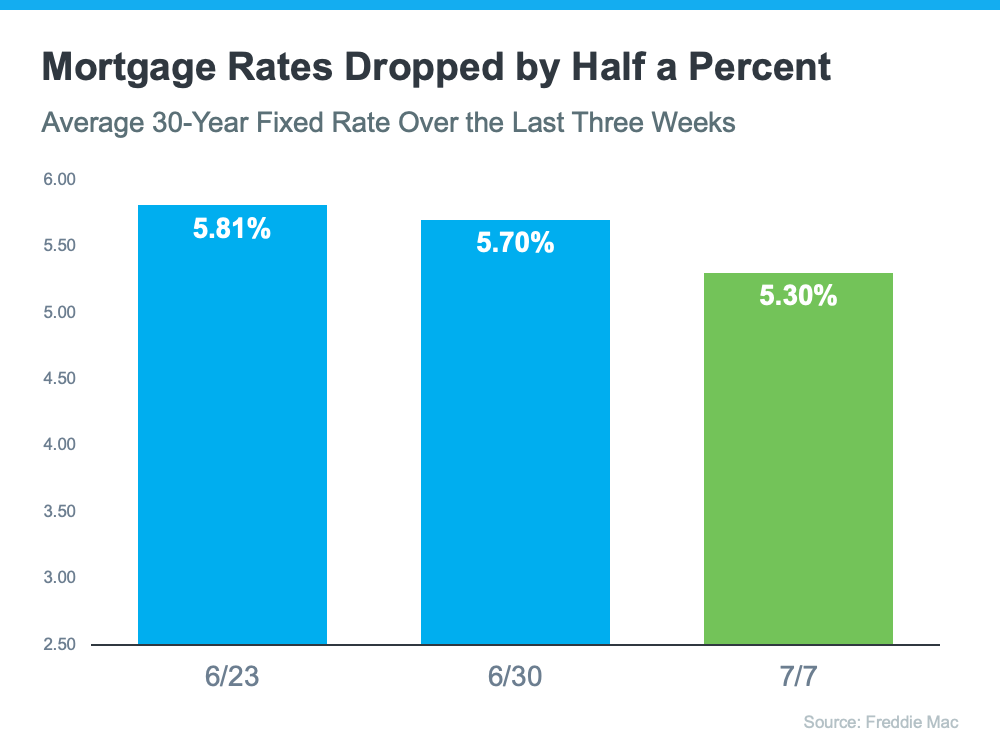 But why is this recent dip such good news for homebuyers? As Nadia Evangelou, Senior Economist and Director of Forecasting at the National Association of Realtors (NAR), explains:
"According to Freddie Mac, the 30-year fixed mortgage rate dropped sharply by 40 basis points to 5.3 percent. . . . As a result, home buying is about 5 percent more affordable than a week ago. This translates to about $100 less every month on a mortgage payment."
That's because when rates go up (as they have for the majority of this year), they impact how much you'll pay in your monthly mortgage payment, which directly affects how much you can comfortably afford. The inverse is also true. A decrease in mortgage rates means an increase in your purchasing power.
The chart below shows how a half-point, or even a quarter-point, change in mortgage rates can impact your monthly payment: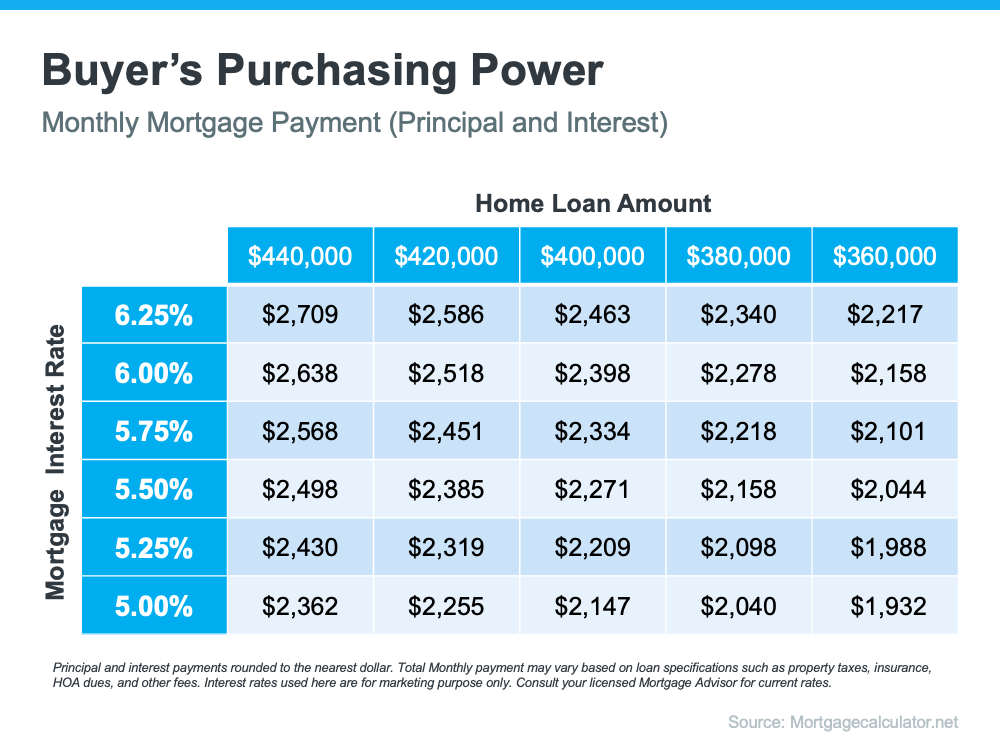 Bottom Line
If you're ready to become a homeowner, know that buying today can set you up for long-term success as your asset's value (and your own net worth) is projected to grow with the ongoing home price appreciation.  If your home doesn't meet your needs, this may be the opportunity you've been waiting for.    Let's connect to begin your homebuying process today.