Should I Sell My House This Year
What Sellers Need To Know in Today's Housing Market

There's no denying the housing market is undergoing a shift this season as buyer demand slows and the number of homes for sale grows. But that shift actually gives you some unique benefits when you sell. Here's a look at the key opportunities you have if you list your house this fall.
Opportunity #1: You Have More Options for Your Move
One of the biggest stories today is the growing supply of homes for sale. Housing inventory has been increasing since the start of the year, primarily because higher mortgage rates helped cool off the peak frenzy of buyer demand. But what you may not realize is, that actually could benefit you.
If you're selling your house to make a move, it means you'll have more options for your own home search. That gives you an even better chance to find a home that checks all of your boxes. So, if you've put off selling because you were worried about being able to find somewhere to go, know your options have improved.
Opportunity #2: The Number of Homes on the Market Is Still Low
Just remember, while data shows the number of homes for sale has increased this year, housing supply is still firmly in sellers' market territory. To be in a balanced market where there are enough homes available to meet the pace of buyer demand, there would need to be a six months' supply of homes. According to the latest report from the National Association of Realtors (NAR), in July, there was only a 3.3 months' supply.
While you'll have more options for your own home search, inventory is still low, and that means your home will still be in demand if you price it right. That's why the most recent data from NAR also shows the average home sold in July still saw multiple offers and sold in as little as 14 days.
Opportunity #3: Your Equity Has Grown by Record Amounts
The home price appreciation the market saw over the past few years has likely given your equity (and your net worth) a considerable boost. Danielle Hale, Chief Economist at realtor.com, explains:
"Home owners trying to decide if now is the time to list their home for sale are still in a good position in many markets across the country as a decade of rising home prices gives them a substantial equity cushion . . ." 
If you've been holding off on selling because you're worried about how rising prices will impact your next home search, rest assured your equity can help. It may be just what you need to cover a large portion (if not all) of the down payment on your next home.
The Shifting Housing Market – What Sellers Need to Know About Today's Market
If you're thinking about selling your house, you may have heard about the housing market slowing down in recent months. While it's still a sellers' market, the peak frenzy the market saw over the past two years has cooled some. If you're asking yourself if you've missed your chance to sell your house and make a move, the good news is you haven't – motivated buyers are still out there. But you do need to price your house right for today's market. Here's why.
As Lawrence Yun, Chief Economist at the National Association of Realtors (NAR), says:
"Homes priced right are selling very quickly, but homes priced too high are deterring prospective buyers."
It's true buyer demand has slowed over the past few months as higher mortgage rates made it more expensive to buy a home. The result is fewer bidding wars and less competition among buyers (see visual below):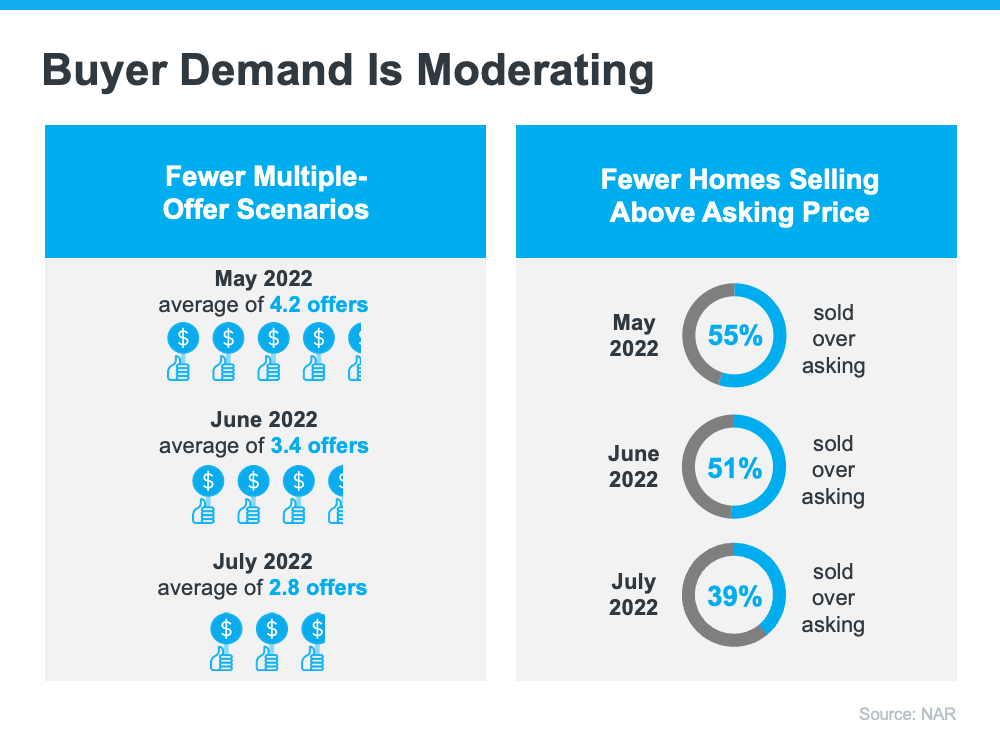 But don't forget – that's compared to the severely overheated market we saw over the past two years. According to the latest Confidence Index from NAR:
". . . 39% of homes sold above list price, down from 51% a month ago and 50% a year ago."
While this is a slower pace than even one month ago, serious buyers are still actively in the market, and they're buying homes that are priced right. In fact, the Confidence Index also notes the average home is selling in just 14 days.
If you're aiming to sell your house, be sure you're working with your agent to price it for today's housing market. As buyer demand softens, it's important to understand this isn't the same market as last year. It's not even the same market as just a few months ago. But it is still a sellers' market.
If you're ready to sell your house, seek the advice of a real estate professional. In some cases, you'll need to adjust your expectations accordingly to meet the market where it is today. Selma Hepp, Interim Lead, Deputy Chief Economist at CoreLogic, explains what's happening and what it means when you sell:
"Signs of a broader slowdown in the housing market are evident, . . . This is in line with our previous expectations and given the notable cooling of buyer demand due to higher mortgage rates. . . . Nevertheless, buyers still remain interested, which is keeping the market competitive — particularly for attractive homes that are properly priced."
Bottom Line
While the housing market has cooled from its overheated frenzy, it's still a sellers' market. There are still 3 important opportunities to take advantage of in this shifting market.
Let's connect so you understand what's happening with buyer demand and home prices in our local area as you get ready to enter the market.